RCNY Tri-State Members Celebrate with Cheshire
The 40th-anniversary celebration of the Legionaries of Christ seminary in Cheshire, CT was held September 1-3, 2003, and was enjoyed by all who attended. Saturday started with a beautiful mass concelebrated by all the Legionary priests who attended, many having flown in from around the country. The chapel was filled with priests, seminarians, family, and friends of Regnum Christi. It was a true homecoming for most of these priests as many, if not all, had received some of their formation there at the seminary. Afterward, pictures were taken of all the LC priests in the chapel and then everyone who attended were photographed together outside. Then a wonderful BBQ meal of hamburgers and hot dogs, sausage and peppers, salads and chips was enjoyed by all. The meal was topped off with a delicious celebratory cake and cupcakes for anyone with room to eat more.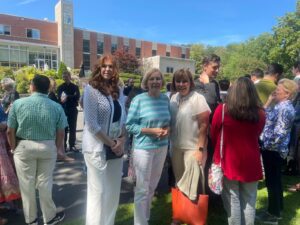 There was plenty of time to visit with the priests, seminarians, family members, and friends during the BBQ. The weather was absolutely perfect for being outside on the lovely grounds of the seminary, conducive for gathering to reunite with old friends and meet new ones. It was a great opportunity for RC members to spend time with the priests and seminarians and one another. It gave the members from the different sections of CT, NJ, and NY to see one another in their own sections as well as integrate with those in other sections. It was a true family reunion for the members of Regnum Christi.
Games of corn hole and disc golf were available to play before
heading inside to hear some inspiring talks. Fr. Timothy Walsh, President of the seminary, introduced the two speakers. Fr. Shawn Aaron, North American Territorial Director, and Fr. John Bartunek, North American Territorial Vicar, shared many stories and some memories of their time spent there as seminarians. Stories included happy memories as well as spiritual and physical struggles at the seminary such as one year going all winter without any hot water. The day concluded with a Jeopardy game with the priests which was quite entertaining. A perfect ending to a perfect day.